Our Promise & Mission
Our promise is to use our comprehensive approach to your historical renovation in order to find you a permanent solution.

Our mission is to elevate the lives of our people, using our expertise and craftsmanship to preserve history.
JOIN OUR TEAM
Are you looking for an interesting, fulfilling job where you can work on once-in-a-lifetime projects for a company you're proud to work for?
OUR SAFETY PROGRAM
The Renaissance culture revolves around safety. We consistently achieve an industry-leading Experience Modification Rating (EMR), and this proven history of safe work allows for lower insurance rates--savings that we are able to pass along to our customers.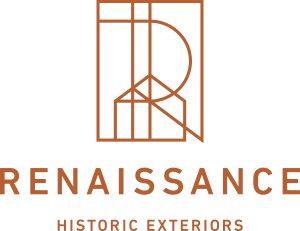 A nationally recognized leader in the field of historical building restoration since 1992, we construct custom restoration solutions for historical homes, churches, universities, courthouses, and state capitol buildings, including many buildings on the National Register of Historic Places. Skilled in both residential and commercial restoration, our full range of services include historical tile and slate roofing, architectural sheet metal, historical carpentry, historical masonry, gutters and downspouts, plus access to the largest inventory of HISTORICAL ROOFING MATERIALS in the U.S. — everything needed to restore your historical building, under one roof.
Customers appreciate our unparalleled commitment to client success, our proven Monarch Elite Process, and our industry-leading safety program. Historical building specialists want to work with us because we take on challenges that no one else in the business can.
OUR PROCESS
Our proven Monarch Elite Process is a seven-step transformation that begins the moment you reach out to us and ends with the emergence of your beautifully restored building.

We begin with our Magellan Building Assessment (MBA), a comprehensive inspection of both the interior and exterior of your property. Our Historical Building Specialist's expert investigation gives you visibility into your building's assets and potential liabilities, and we work with you to determine next steps.
FEATURED REVIEWS


Our company recently replaced a clay tile roof here in Iowa. Instead of putting the 100 year old tile in the landfill, we sent the unbroken tile to Renaissance Roofing. Eric was awesome to work with throughout the process, and got back to me very quickly each time I reached out to him via email and phone. Would definitely trust them with our next project.



From the beginning of the project to the last day, communication was consistent, everything was documented by photos, additional work that was necessary was explained before it was undertaken. All in all, a perfect contractor/client relationship.
Lori J.
|
Evanston, Illinois



From diagnosis to execution, Renaissance Roofing did an excellent job. They took time to examine our roof and pinpointed the root cause of the problems. They also took time to explain these to us. The actual work done was superb. We watched from our attic as they made progress and their work was thorough and complete. Each team that worked on our roof was professional, courteous, took time to answer any of our questions, and explained their process as they went along. Upon completion, they cleaned up wonderfully. They clearly are experts with tile roofs. We recommend them unconditionally.
Neskow
|
Park Ridge, Illinois

Contact us to discuss your needs for your historical property
CONTACT RENAISSANCE